When you are going to take one step closer to better oral health if you are planning to get braces treatment. Whether you are planning to straighten your teeth or fix a bite problem, getting braces can be a worrisome fact for you. But if you try to understand how the process is going to work especially the types of braces and braces cost or involvement in treatment, it might help you a little bit and decrease your tension. It will also help you get prepared for what you are going to experience. It is always recommended to keep in mind that the experience might be slightly different, as it will depend on the specific treatment and the orthodontist.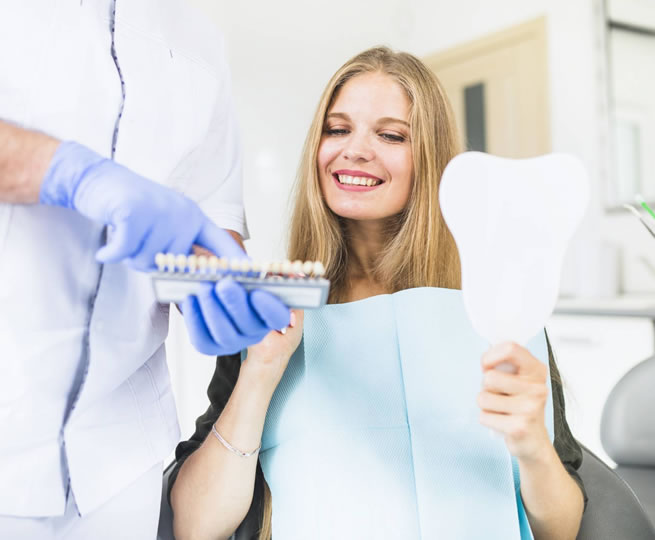 Getting a Referral:
The very first step of this journey is to get referrals. In this case your very known dentist can help you. people do not visit an orthodontist on a regular basis. They do mostly when their dentist suggests them to. And it is the dentist who will look after the patient's teeth even after the work is done. So the dentist can suggest you the best orthodontist they know. 
Another way to get referrals is from them who has their braces on or have the experience earlier. Try to know the facts that helped them and the facts that should be avoided. Ask them if they had a good experience and want to refer their orthodontist.
Consulting the orthodontist:
Before getting any official appointment for braces treatment, just go for a consultation. Indeed, you need to know more about the types of braces appropriate, braces cost, whether there are alternative options for braces treatment. The first meeting will let the orthodontist evaluate the situation. Don't forget to bring x-rays along with you if you have one from your dentist. Seeing them, the orthodontist will suggest to you the best plan of action. 
Consulting an orthodontist is a must before putting your braces on. You will get to know what benefits you are going to get. Also there are situations when putting on braces doesn't help at all. it will just cost you for nothing. So you better not miss this part. You can also ask you need to know about it so be prepared before coming.
Get a treatment designed as per your need:
Once you made up your mind, get an official appointment to visit your orthodontist. After analyzing everything the orthodontist will give you a treatment plan to solve your specific problem. 
Every mouth is different so as the problems. Someone might have an overbite and another might has an underbite. Someone might be facing a problem of too much space in between teeth and someone might be facing overcrowding. Treatment for every different problem is different. So you need to have a customized treatment design that will solve the problem you are facing.
Before putting on braces:
As discussed earlier types of braces and dental treatment by braces are really a concern for you. Know more detail and get prepared mentally for what you are going to do. This might need some patience and courage, but you have to think about the outcomes you are going to get. The beautiful smile will brighten up your future and in some cases change the way you will look in a positive way after putting out your braces.
Indulge few treats that you might have to avoid during the treatment such as, nuts, hard lollies, popcorn, chewy food, hard crust pizza, and many other food items that will be avoided. To understand the difference, take a selfie before putting on braces.
Getting the Different Types of Braces:
 Here come the moment you were preparing for braces treatment.  That means you are well aware of the braces types, the time required, and braces treatment procedure. This time you have to spend more time in the orthodontist's place. Once you are in consultation with an Emergency Dentist Houston or anyone at  Walk-in Dental, you may get more detailed information in real quick. It might take about two hours to get it done. There are some steps your orthodontist will follow.
Before the whole process starts the orthodontist will clean your teeth with some cleaning paste. In this procedure, once he or she will insert a device to keep your tongue in place and make your mouth dry, and will dry your teeth afterward.

When your mouth is ready for the braces a bracket will be attached, which is a small metallic or ceramic material that will keep the wire in position.

Now comes the bonding cement which will be applied to the center of every tooth. To set the glue, the orthodontist will shine a blue light on it. after that he or she will place the bracket on the center of the tooth.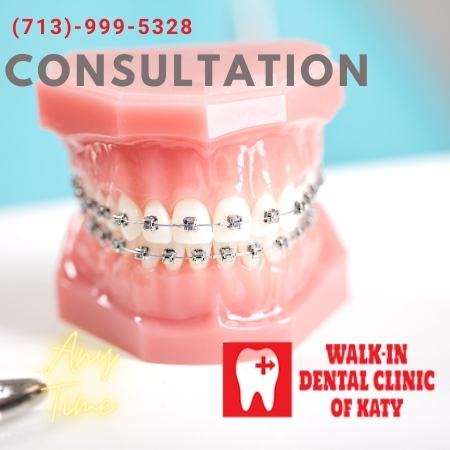 Metallic bands will be put on the back molars, to hold the bracket. The orthodontist will choose a band that will be right size to fit the tooth. Again the orthodontist will apply some glue and set it with the blue light like before.in this stage, you might have a twitching feeling while the placement is happening. In this case, inform the orthodontist to make some adjustments and make it comfortable for you.

The arch wires are well connected to the brackets after putting the brackets and bands in place. A small rubber will be wounded around every bracket to connect the wire in position. You have the options to choose the color of the rubber bands in this part. The process will end here by cutting the arch wire's end which will prevent it from touching the gums, also the back of the mouth.
The first few days After Braces Treatment:
The whole process will take some time and as works have been done inside your mouth you might feel a little uncomfortable. You may consult any nearby dentist in Katy or Houston.  Also, you will feel pain when you will eat, so have soft food in your list for the first few days. You might also feel some soreness these days. This period of time is considered to be the most painful time as the brackets and wires start working together on your teeth. The inner side of your lips will soon adjust to rubbing against those brackets and wires. You can also rub some orthodontics wax that will help to reduce the friction a little bit.
Dietary restriction Once You under this dental braces treatment:
As a requirement, you need to follow some dietary restrictions after getting your braces on. You will be advised to avoid crunchy and sticky food alongside some hard fruits. However, small pieces of hard food may be okay to eat. You have to avoid anything that will require a larger bite as it can cause your brackets to pop up. You might think that these restrictions are not needed, but trust me, these are for your smooth and quick treatment. 
Maintaining your braces:
You have to maintain follow-ups even after putting on the dental braces, which can be every 4-6 weeks to make adjustments to your braces. This is a requirement that a dentist will recommend. Your orthodontist will change your bands that might get worn out or make adjustments to the wires so the change takes place in the right direction. 
You might have to spend only 20-30 minutes in these appointments. 
Try to keep your teeth as cleaner as possible and take very good care of it. If you want to avoid staining and decay, don't forget to brush and floss on a regular basis.
Your last visit with a new perfect smile:
The long awaiting part comes now. The wait is over and you have done it. It's time to get the most expected look with a very beautiful smile. And the most interesting part is you are going to get it faster this time. The braces will come off easily and leave behind a fade trace of bonding material. Which will be gone in no time when your orthodontist removes and polish the enamel. It will leave behind your smooth and shiny teeth.
 The problems of each person might vary but the experience is somewhat the same. You will get your problems done with care and patience. Take very great care afterward by brushing and flossing regularly and don't forget to follow the advice you get from your orthodontist.