If you are having dental issues and want emergency dental care, you can choose Walk-In Dental, the emergency dental serving for the greater Houston area. Our dedicated team will do their best to get you an appointment for the same day as soon as possible.
Our clinic is high-tech and specializes in cosmetic and general dental treatment designed for emergency dental care people. Our dentists are gentle and experienced in working with patients who may not visit the dentist in several years. We also have expertly trained staff who will provide a full range of services once you are here in a relaxing environment.
When should you visit emergency dental centers in Houston?
Let us highlight some situations that can be considered as a dental emergency so far we noticed in Houston, and you cannot avoid them for long and may also make them worse if you do so.
Listed below are some dental emergency situation that you may experience at any time-
Situation 1: My tooth is in so much pain and I'm bleeding.
Dental Emergency Situation 2: Need tooth to have an upper left tooth pulled
Situation 3: Cavity and major pain. Need emergency check-up and dental work.
Situation 4: Chipped tooth extraction
Situation 5: Tooth broke, in pain, sensitive to touch, and swollen is taking place
Emergency Situation 6: Toothache (molars) need extraction. Will do cleaning as well
Situation 7: I have a tooth that was broken and the top of it fell off. I'm in pain and need it extracted!
We always don't understand when to visit our doctors, maybe because of our daily busy life we avoid and postpone visiting our dentists.  However, the listed detailed discussion may help to understand the dental emergency situation from a real perspective.
When abscessed teeth are aching:
From many other dental emergencies, an abscessed tooth is one. In this situation, A collection of pus forms inside the bones that holds the teeth or the gums caused by bacterial infection. You can ignore chronic pains for some moment, but this kind of pain is something that will continue to exist until you visit an emergency dental center.
If you wait to see if the pain goes away on its own, the abscess will rapture, and the pain will increase significantly. The infection might also spread to the other areas of your head and neck, starting with the jaw if the abscess does not drain. Walk-In Dental Houston can accommodate your appointment on an emergency basis, whenever you have any requirements.  Call at 713-999-5328 for immediate response and confirmation of appointment.
When your gums are bleeding:
You might think that gum bleeding is a minor issue, but it can turn out as a sign of a more significant problem, and the time when you need dental emergencies. Gum bleedings can occasionally occur while brushing teeth or wearing dentures that don't fit properly. But it can also indicate more severe conditions such as leukemia and periodontitis. We want to ensure that our experienced emergency dentist Houston is ready to take care of you at a convenient time when you have this type of dental emergency in Houston.
When a toothache is troubling you:
One of the most common reasons for seeking dental emergencies is toothaches. This problem can also get worse if you leave it untreated. Toothaches are not life-threatening and are causes of tooth decay. But there are also other severe causes of toothaches that can be life-threatening.
Although having a toothache can be an average case, why taking a risk is also a sign of Trigeminal neuralgia and occipital neuralgia, which are infected trigeminal and occipital nerves that service our face, skull, and teeth.
When you miss a filling or a crown:
It is not uncommon to fall into a situation when we suddenly lose a crown and don't know how we lost it. This is also a situation when you need dental emergencies immediately. Because if it's not treated, tiny particles and food items can get stuck inside, and the decay gets worse. So go for dental emergencies whenever you face this problem.
When you break a tooth:
It doesn't matter if you have symptoms or no symptoms at all; if you have a broken tooth, you must seek a dental emergency no matter what. A broken tooth can be a way to infection if not treated by professionals. The condition can even move to the neck and head, causing more life-threatening problems. Don't waste time and ensure that your chip does not lead to other health issues b visiting a dental emergency center immediately. Our Houston emergency dentist is ready to confirm the best available appointment when you have such like broken teeth situation.
Why choose Walk-In Dental for Emergency Dental Treatment in Houston.
We provide 24 Hours / 7 Days aftercare cover for all our patients, which is unique.
No registration is needed for new patients.
For anxious patients' sedation and the wand, a painless injections system is available here.
Active treatment can be carried at the same emergency appointment. We also offer root canal treatment or tooth extraction services on the same day.
We can diagnose any problem you are facing with an in-house.
You can get exceptional care from highly experienced dentists.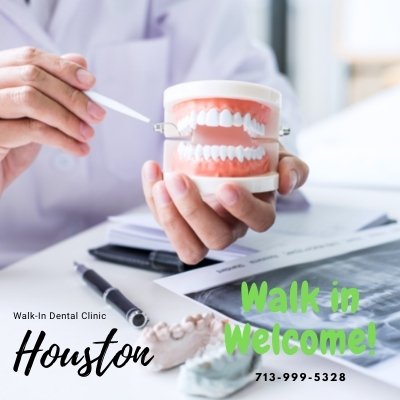 Aim of Emergency Dental Care
Emergency dental care now tends to be far more comprehensive than before, as the aim is to treat the source of oral pain and correct the overall dental function. For instance, if a patient comes in sudden oral pain and access emergency dental care through an emergency diagnostic test, the cause of the pain may be identified. It can be an infection in dental structures.
As part of the patient's treatment root canal might get included to reduce the pain and infection. Then future appointments are made for a later stage to provide more treatment where preferred, such as tooth restoration or dental implants.
The existing tooth structure is aimed to preserve by all dentists, which includes emergency dentists also. Thus, reduce the need for tooth extraction and treat oral discomfort to restore oral health as soon as possible.
Tips for dental emergencies
here are some tips for your dental emergencies, as they cannot be ignored no matter what. Ignoring dental emergencies can even lead to severe life-threatening emergencies.
Try to be careful if a tooth or dental appliance is lost or dislocated before heading to the dentist. In some cases, the dentist can lodge the lost tooth.
Take care of your knocked-out tooth:
If you get in any situation like a tooth getting knocked out, try to handle it by the crown. Take it carefully and rinse it with water without scrubbing away the remaining tissue. After that, place it in a cup of salty warm water or milk. After all, these try to reach your emergency dental clinic promptly, and it still can be restored.
Clean your mouth with warm water and give it a cold compress to reduce swelling. Try to gather the pieces of your broken tooth that can be found and see your dentist immediately.
Create pressure with a cloth and a cold compress to reduce the swelling. Visit the emergency dental clinic as soon as possible if heavy bleeding occurs.
While suffering from toothache pain, rinse your mouth with warm water carefully. Gently remove food using floss, which might be trapped inside and cause additional pain. It is advised to avoid aspirin to the tooth or gum tissues. After that, you can call or directly visit your emergency dental clinic with the same-day appointment and describe the issues you are having as soon as possible.
Broken or fractured jaws:
If you break a jaw or get it fractured, address it immediately with a visit to the emergency dentist's office or clinic. While going there, use a cold compress to reduce swelling.
Loose or broken wires from braces:
Facing such a situation is not uncommon and can irritate by damaging the surrounding tissues. You can apply orthodontic wax to the broken wire, which will cover the sharp ends. If the wire gets stuck inside any part of your mouth, avoid pulling it out on your own and seek immediate treatment from an emergency dental clinic.
Last thought and Our Service
We have emergency dentists available on weekends – Saturday, Sunday, and Bank holidays.
Call us, and we will book an appointment for you within the next hour!
COVID update:
24 Hour Emergency Dentist is still working during the COVID outbreak by applying stringent cross-contamination rules. Social distancing measures have been used, air purification to avoid dangerous aerosols and time spacing between patients. We assure you that you will feel safe with us in Houston, as our dentists are highly trained and qualified in dealing with the current pandemic situation.
With a convenient location, we are here to treat all kinds of dental emergencies, including dental injuries and trauma, even in this pandemic.
We are here to help if you are looking for a dentist near your place. We can provide you services such as out-of-hours dentist appointments or walk-in dental service, open on weekends.